To search for an expert, please select the relevant category.
---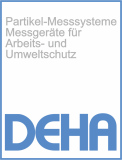 DEHA Haan & Wittmer GmbH
Keltenstraße 8
71296 Heimsheim
Germany
Phone: +49 7033 30985131
Fax: +49 7033 3098529
marketing@deha-gmbh.de
https://www.deha-gmbh.de
DEHA Haan & Wittmer GmbH offers a wide range of high quality measuring instruments for the qualification and monitoring of cleanrooms, for the assessment of workplace hazards, and for the evaluation of the climate and air quality in rooms.
For more than 40 years, we have been specialists in the distr…
to the expert profile
Krahnen GmbH
Paffrather Str. 13-15
51069 Köln
Germany
Phone: 0221 681006
alker@krahnen.de
http://www.krahnen.de
For more than 50 years now, customers from the chemical, pharmaceutical, food, petroleum and fuels industries have been using KRAHNEN products for maintenance and quality assurance.
Our customers appreciate the advantages of the integrated overall solution from a single source and benefit from select…
to the expert profile