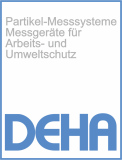 DEHA Haan & Wittmer GmbH
Keltenstraße 8
71296 Heimsheim
Germany
Phone: +49 7033 30985131
Fax: +49 7033 3098529
email:
marketing@deha-gmbh.de
https://www.deha-gmbh.de
Profile
DEHA Haan & Wittmer GmbH offers a wide range of high quality measuring instruments for the qualification and monitoring of cleanrooms, for the assessment of workplace hazards, and for the evaluation of the climate and air quality in rooms.
For more than 40 years, we have been specialists in the distribution and service of particle measurement systems for clean rooms, as well as measuring instruments for occupational health and safety from leading manufacturers.
These include particle counters, complete solutions in the field of clean room monitoring systems, volume flow measuring hoods, and measuring devices for temperature / humidity, air velocity, differential pressure, sampling pumps for occupational safety, as well as dust measuring devices and accessories.
We implement the monitoring of all relevant parameters in one system even in complex building structures.
Calibration, maintenance, and repair of the devices are also part of our range of services. Instruction - on site or online - in the function of the measuring instruments can also be provided.
With our measuring instruments, solutions and services, you are certain to make the right decision.
– Particle measurement technology
– Measurement technology for clean rooms
– Air conditioning & ventilation technology
– Clean room monitoring systems
– Cleanroom qualification and monitoring
Business segments
Buildings & Rooms: Planning, Project controlling/-management, Construction, Facilities, Assembly, Renting/Leasing, Sauberraum
Building technology: Air, Air conditioning, Control engineering
Monitoring & Measurement: Systems, Devices, Applications, Particles, Germs, Temperature, Humidity, Pressure, Fogger
Service: Consulting, GMP, Measurement, Calibration, Laminar Flow, Leak test, Visualisation, Maintenance, Upkeep
Commissioning: Audit, Qualification, Validation
Production & Procedure: Personnel, Occupational safety, Workbench, Safety workbench, RABS, Isolator, Ultrapure media (water, ...), Injection moulding, 3D printing, Lasertechnology, Products, devices, systems, plants for applications, Automation, Robot, Lifting- and Handlingtechnology, Transfer systems, Storage technology, Packaging, Shipping, Waste disposal
Laboratory, Analytics & Microbiology: Technology, Testing and detection equipment, Evaluation means and methods
Branches
Pharmaceutical industry / biotechnology, Chemical industry, Healthcare, Food / Cosmetics, Surface and plastics technology, Microelectronics / Microsystems Technology, Optics / Laser Technology, Aerospace technology, Automotive industry / electromobility, Research & Development
Publications