---
Reinste Luft auf kleinem Raum
SPETEC® Reinraum-Werkbank: Mini-Environment sorgt für Partikelfreiheit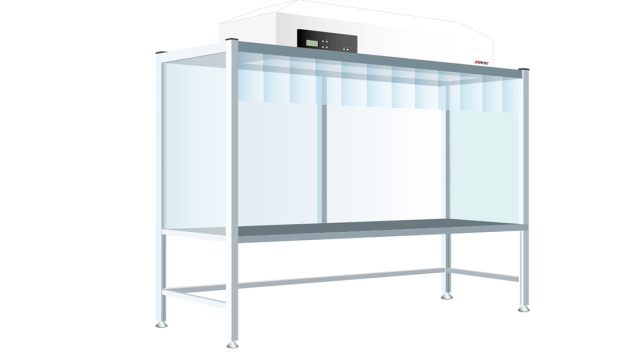 Egal ob in der Medizin-, Pharma- oder Halbleiterproduktion: Für viele Branchen wird das Produzieren und Fertigen von Bauteilen in einem sauberen bzw. partikelfreien Umfeld immer wichtiger. Die Hauptanwendung der Spetec Reinraum-Werkbank bzw. Mini-Environment liegt im Bereich der optischen, elektronischen und mechanischen Industrie. Die Reinraum-Werkbank kann individuell nach Kundenwunsch und der geforderten Reinraumklasse gefertigt werden. Das heißt in punkto Größe, Ausstattung und Ausführung wird sie den jeweiligen Erfordernissen angepasst.
In der Regel wird das Gerät aus reinraumtauglichen Aluminium Profilen gefertigt. Die Seitenwände sind entweder aus Glas, Acrylglas oder ein Streifenvorhang umschließt die Box. Auf die Oberseite wird dann ein Laminar Flow Modul montiert, sodass im Inneren der Box Reinraum Klasse 5 entsteht. Dies sind gerade mal ca. 100 Partikel der Größe 0,5 µm. Gegenüber einer ungefähren Partikelzahl von ca. 1 Mio. pro Kubik-Fuß in einem gewöhnlichen Büro oder Labor bedeutet dies eine Verbesserung der Luftqualität um den Faktor 10.000.
Wesentlicher Unterschied gegenüber einer Spetec Laminar Flow Box (FBS-Serie, Tischgerät) ist die Tatsache, dass die Reinraumwerkbank in Größe und Ausstattung vollkommen an die Bedürfnisse des Kunden angepasst werden kann, z.B. bei der Auswahl der Arbeitsfläche, die als Lochblech, Edelstahl oder Hartlaminat angeboten wird. Somit entsteht ein eigenständiger kundenspezifischer Reinraumarbeitsplatz.


Do you have questions, suggestions or an enquiry?
Contact the company directly
Your message
On cleanroom-onle.com I read the article "Reinste Luft auf kleinem Raum – SPETEC® Reinraum-Werkbank: Mini-Environment sorgt für Partikelfreiheit" from I have the following request, comments, suggestions:
Wonderful! Your data has been sent. Spetec Gesellschaft für Labor- und Reinraumtechnik mbH Wonderful! Your data has been sent.
Oh no! Something has gone wrong. Please check your entries. There may also have been an error during dispatch. Just try again in a few minutes.
---


Spetec Gesellschaft für Labor- und Reinraumtechnik mbH
Am Kletthamer Feld 15
85435 Erding
Germany
Phone: +49 8122 959090
Fax: +49 8122 9590955
email: info@spetec.de
Internet: https://www.spetec.de

---