Standard-, operating-parts, valves, connectors, ...
---
Universal and Clever: Retaining Magnets
New materials, new shapes, new magnet systems and raw magnets: Ganter is expanding its repertoire to support even more clever applications.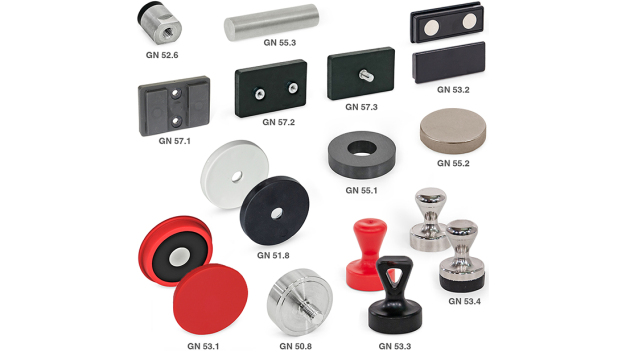 Magnets allow clever and nearly universal solutions for fastenings, closures or temporary connections. Ganter is expanding its range of magnet systems and raw magnets to include new shapes.
The new highlight is the retaining magnet GN 50.8. A tight stainless steel housing surrounds the powerful SmCo magnet, making it perfect for use in corrosive environments. It also features a long service life and is temperature resistant to 350°C – meaning it can be used on hot surfaces, such as oven doors. The magnet system can be ordered in diameters between 16 and 32 mm, and all sizes have an M6 threaded stud.
Another new product is the magnet system GN 51.8. Its neodymium magnet is fully encapsulated by a TPE elastomer. This makes GN 51.8 especially well suited for use on sensitive (such as painted) surfaces – e.g. for attaching protective covers. These are in turn connected to the magnet via the central hole, which is suitable for countersunk screws. The TPE coating also increases the static friction and thereby the force required for sliding the magnet, while the temperature resistance extends to 80°C.
Retaining magnet GN 52.6 also has a protective rubber contact surface. The cylindrical stainless steel housing effectively protects the neodymium magnet inside against aggressive media. The magnets GN 53.1 and GN 53.2 are designed for standard applications in offices, workshops and production environments and have powerful neodymium magnets that are embedded in round or rectangular plastic housings (available in four colors).
The neodymium magnet GN 53.3 was designed for easy handling and has a plastic handle, which can be either cone-shaped or flat. The flat variant additionally features an eye for securing the part. For GN 53.4, the handle is made of nickel-plated steel, optionally with a TPE coating to protect sensitive surfaces.
In addition to these functionally optimized magnet systems, Ganter also offers raw magnets – of hard ferrite, neodymium, SmCo and AlNiCo, in various shapes and sizes, with or without fastening holes. These magnets of the series GN 55.1 to GN 55.4 as well as GN 57.1 to GN 57.3 can be easily overmolded, glued or sewn in and are suitable, for example, for securing cables in wind turbines.
---


Otto Ganter GmbH & Co. KG
Triberger Straße 3
78120 Furtwangen
Germany
Phone: +49 7723 65070
Fax: +49 7723 4659
email: info@ganternorm.com
Internet: http://www.ganternorm.com

---