---
Feinstreinigung XXL auf dem Weg nach Kalifornien: "Mundgerecht" zerlegt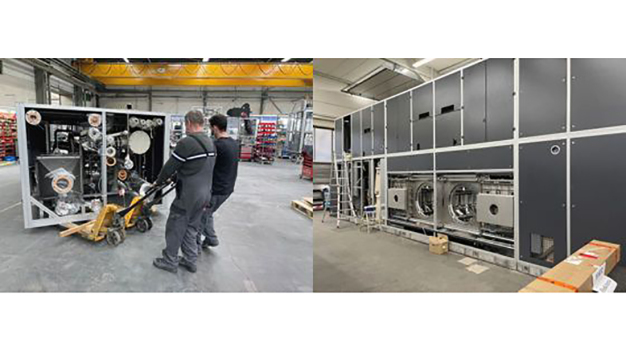 Unsere Reinigungsanlage für den Hochvakuumbereich in der Halbleiterindustrie für einen amerikanischen Kunden in Kalifornien stellte den Endspurt im vergangenen Jahr dar. Das CNp-System ist mit zwei 700 Liter-Behandlungskammern, fünf Medienvorlagen mit einem Gesamtvolumen von ca. 5.000 Litern, hochwertigen Kreislaufaufbereitungssystemen, Mehrfrequenz-Ultraschall in beiden Kammern sowie einer geeigneten Automation mit LaminarFlow-Tunnel und Reinraumanbindung ausgestattet.
Ein ambitioniertes Projekt, aufbauend auf den Erfahrungen der vergangenen acht Jahre mit vielen vergleichbaren Anlagen. Nach einer Montagezeit von vier Monaten sowie einer intensiven Inbetriebnahme- und Testphase, konnte LPW gemeinsam mit dem Kunden die Vorabnahme in den letzten Dezembertagen durchführen. Sauberkeitsanforderungen auf definierte Grenzwerte organisch-filmischer Kontaminationen sowie auf atomare Restlagen bestimmter Stoffgruppen, sind in jeglicher Hinsicht eine Herausforderung an die verwendeten Materialien, die Fertigungsprozesse und die verfahrenstechnische Ausführung. Dazu kamen lokale Anforderungen in Bezug auf die elektrische Ausführung, die Arbeitssicherheit sowie die Berücksichtigung der besonderen Gefährdungen durch Erdbeben in Kalifornien. Wöchentliche Videokonferenzen sowie Online-Begehungen zu wichtigen Meilensteinen der Fertigung gehörten in der gesamten Projektphase zur Tagesordnung.
Nach dem Finish wurden Anfang des Jahres 33,5 Tonnen Anlage in "mundgerechte" Transport-Stücke zerlegt und per Container nach USA verschifft. Anfang April beginnt, gemeinsam mit der aktiven Unterstützung unserer nordamerikanischen SurfaceAlliance-Partner von Washtech, der Aufbau in Kalifornien. LPW – more than cleaning.
Do you have questions, suggestions or an enquiry?
Contact the company directly
Your message
On cleanroom-onle.com I read the article "Feinstreinigung XXL auf dem Weg nach Kalifornien: "Mundgerecht" zerlegt " from I have the following request, comments, suggestions:
Wonderful! Your data has been sent. LPW Reinigungssysteme GmbH Wonderful! Your data has been sent.
Oh no! Something has gone wrong. Please check your entries. There may also have been an error during dispatch. Just try again in a few minutes.
---


LPW Reinigungssysteme GmbH
Industriestraße 19
72585 Riederich
Germany
Phone: +49 7123 38040
email: info@lpw-cleaning.de
Internet: http://www.lpw-cleaning.de

---