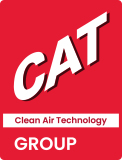 CAT Clean Air Technology GmbH
Motorstraße 51
70499 Stuttgart
Germany
Phone: +49 711 365919937
email:
info@catgmbh.de
http://www.catgmbh.de
Profile
CAT Group is one of the most sought-after specialists worldwide when it comes to rooms for sensitive production conditions. Our focus is on cleanrooms, dryrooms and cleanliness rooms and all related competences, services and products.
For our international customers, we work around the globe. At the same time, our company has strong roots in the region – since the foundation of CAT Group in 1995 our headquarters is located in Stuttgart, Germany. Subsequently, field offices were added in Hohenstein-Ernstthal (Chemnitz) and Penzberg, Germany.
CAT Group has an in-depth know-how in cleanrroms and technical building equipment. We offer our customers all the services they need from a single source – from consulting and planning to construction management, qualification and validation, calibration, flow visualization, commissioning, electrical building services, heating-cooling-ventilation-sanitary and maintenance and service. High-quality cleanroom products and cleanroom equipment round off our portfolio.
For us, this extensive know-how is our company philosophy – for our customers, it is our comprehensive carefree package.
We work in accordance with EU-GMP, DIN EN ISO, FDA, VDMA and VDA guidelines. Our company provides a quality management system (QM) according to DIN EN ISO 9001 for the structuring and continuous improvement of all processes.
Business segments
Buildings & Rooms: Planning, Project controlling/-management, Facilities, Doors, Ceilings, Walls, Floor, Light, Lock, air shower, Assembly, Modular rooms, Cabins, Minienvironment, Sauberraum
Building technology: Air, Air conditioning, Refrigeration, Filter, Water, Gas, Electrical, Control engineering, Media, Systems
Furnishing & equipment: Pass-through, Flow box, Sit-over, Furniture, Workplace, Tools, Transport
Monitoring & Measurement: Systems, Devices, Applications, Particles, Germs, Temperature, Humidity, Pressure, Density, Fogger
Service: Consulting, GMP, Measurement, Calibration, Laminar Flow, Leak test, Visualisation, Maintenance, Upkeep
Commissioning: Qualification, Validation, Certification
Production & Procedure: Workbench, Safety workbench
Laboratory, Analytics & Microbiology: Furnishing, Technology
Knowledge & Events: Workshop / Course, Standards, Guidelines
Branches
Pharmaceutical industry / biotechnology, Chemical industry, Healthcare, Food / Cosmetics, Surface and plastics technology, Microelectronics / Microsystems Technology, Optics / Laser Technology, Aerospace technology, Automotive industry / electromobility, Research & Development
Publications