Deutsch
---
Scale-up for increased reliability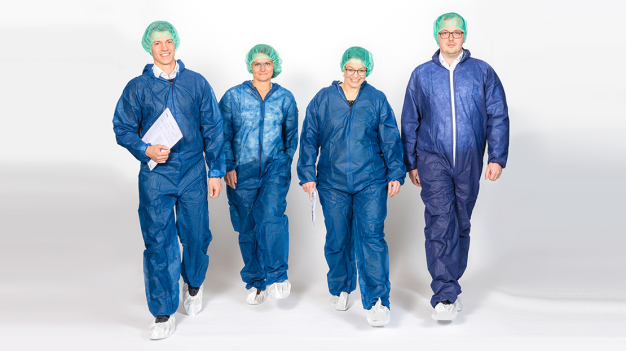 (Foto: Helmar Lünig, shutterstock.com/Haywiremedia, Harro Höfliger, Andreas Dalferth, Jan Seidl) / (Photo: Helmar Lünig, shutterstock.com/Haywiremedia, Harro Höfliger, Andreas Dalferth, Jan Seidl)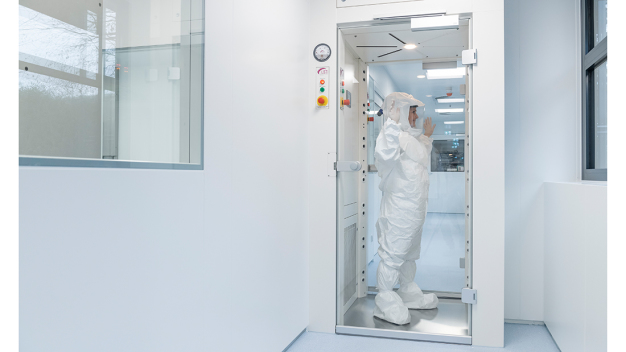 Die Luftdusche ermöglicht das gefahrlose Arbeiten mit hochpotenten Stoffen. (Foto: Helmar Lünig, shutterstock.com/Haywiremedia, Harro Höfliger, Andreas Dalferth, Jan Seidl) / The air shower provides a safe working environment when handling highly potent substances. (Photo: Helmar Lünig, shutterstock.com/Haywiremedia, Harro Höfliger, Andreas Dalferth, Jan Seidl)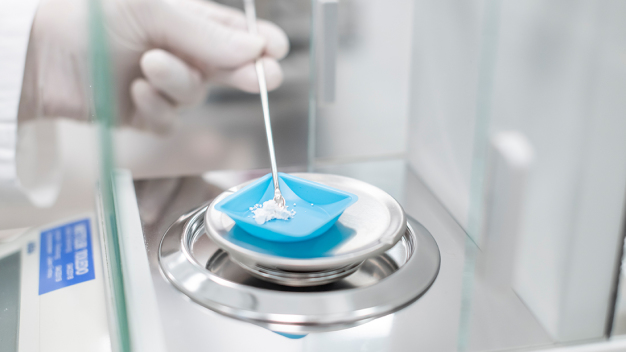 Mithilfe moderner Messsysteme lassen sich umfangreiche Analysen durchführen. (Foto: Helmar Lünig, shutterstock.com/Haywiremedia, Harro Höfliger, Andreas Dalferth, Jan Seidl) / Extensive analytical tests can be carried out with the aid of modern measuring systems. (Photo: Helmar Lünig, shutterstock.com/Haywiremedia, Harro Höfliger, Andreas Dalferth, Jan Seidl)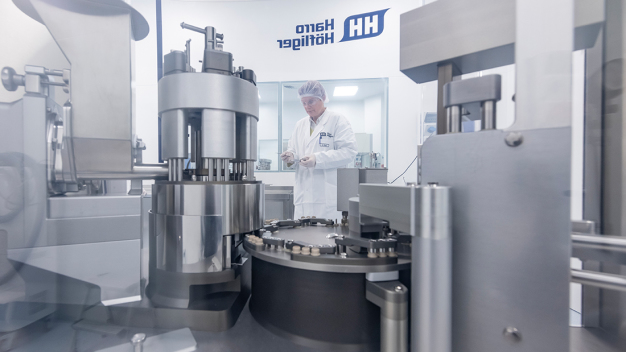 Der größte Reinraum misst 10 x 5 Meter und bietet Platz für komplette Maschinen. (Foto: Helmar Lünig, shutterstock.com/Haywiremedia, Harro Höfliger, Andreas Dalferth, Jan Seidl) / The largest cleanroom measures 10 x 5 meters and offers space for entire machines. (Photo: Helmar Lünig, shutterstock.com/Haywiremedia, Harro Höfliger, Andreas Dalferth, Jan Seidl)
With the expansion of cleanroom facilities and a state-of-the-art laboratory, Harro Höfliger is further increasing its testing capabilities for customers. New possibilities for product analysis and safety precautions help to minimize risks for customers, but also for employees. Four employees talk about the possibilities, benefits and opportunities this expansion offers.
When almost 20 years ago, the pharmacist Dr. Karlheinz Seyfang founded the Pharma Services department at Harro Höfliger and set up the first cleanrooms, he made the company a pioneer among machine manufacturers. Since then, this area has seen continuous growth and has become an integral part of the ALL YOU NEED service idea. When purchasing machines and developing processes, risk minimization is a top priority. With the range of services offered by the Process Services Division, Harro Höfliger guides customers every step of the way from the initial idea to production. The expansion of the cleanrooms and the new laboratory were imperative in order to further increase this service portfolio. The expansion is part of the ongoing commitment to improvements that motivates Harro Höfliger: Providing more service to our customers, the best possible protection for our employees and the environment, plus the opportunity to continuously optimize our machines.
We started to plan the expansion of our four cleanrooms three years ago. It was already clear at that time that we were reaching our limits with the available capacities. During factory acceptance tests (FAT), for example, a room may be occupied by a machine for up to several weeks. In addition, many of our customers wish to outsource trials because they do not have the necessary facilities in-house. Therefore, the decision to expand our capacities was made quickly. We now have a total of ten cleanrooms with a total area of more than 500 square meters, and an additional 60 square meters of laboratory space available. The largest room measures about 10 x 5 meters. Three of the cleanrooms are defined as High Potent areas. An additional air lock with an air shower makes it possible to work safely with highly potent active substances up to OEB 5. Four of the ten cleanrooms can be operated at a relative humidity of ten percent using additional dryers. A ring line supplies all cleanrooms with demineralized water. The air humidity, the air flow and the temperature can be controlled in every room as required. The measured values are shown on a display and saved for monitoring. In order to protect the environment, we not only filter the exhaust air, but also separate the wastewater: Contaminated water is channeled into a special tank for incineration by a disposal company. However, protecting our employees and customers was also very important to us: The air shower, lowerable door seals and a slight negative pressure in all rooms prevent contamination of the surrounding areas when processing active substances in the cleanrooms. Special air extraction systems at the laboratory workstations also ensure a more comfortable work environment.
Most employees in Pharma Services come from the pharmaceutical industry. We know our customers, speak their language and understand what they need. These are important prerequisites for exchanging ideas in a true spirit of partnership. Our customers already benefit from the fact that we work with a wide range of products and formulations every day. Based on the experience of each individual employee, we have an eye for what will work and what could cause problems. This enables us to provide customers with concrete solutions, such as a specific dosing system for their products, while always keeping in mind a possible scale-up. The dialogue between Pharma Services, the Design Department and the customer is the recipe for success when it comes to machines that are optimally tailored to the product. Thanks to the increased opportunities offered by the new cleanrooms and laboratory space, we can develop and verify filling processes in close cooperation with our colleagues in machine development. At a very early stage we can ensure a reliable reproducible product quality across all scale-up steps and thus, every now and then, we can contribute to accelerating product approval together with the customer. By using the Design of Experiment (DoE) methodology, we perform experiments, for example, with different machine speeds and variable filter inserts, and create a process window with parameters that work reliably.
Just two years ago, we restricted our approach to purely physical measurement methods. Now we can perform a much wider range of analytical tests. With the new particle measuring systems, ultra-fine particles can be measured, which could influence the later processing of a product. New are our capabilities in the wet-chemical field: By using high-performance liquid chromatography (HPLC), we can determine if and to what extent active agent particles accumulate on machine surfaces. We aim to ensure, for example, that no uncontrolled loss of active ingredients occurs during filling processes. By measuring the uniformity of the mixture content, we test how a product behaves under different manufacturing conditions and whether this might influence the filling properties. For inhalation, we now have the New Generation Impactor (NGI), a kind of lung filtration simulation. The NGI gives us the possibility to determine the fine particle fraction (FPF) or the fine particle dose (FPD). This analytical option is one of the most complex I know of. Now we have much better overall control of the filling process. We can analyze the CPP (Critical Process Parameters), the CMA (Critical Material Attributes) and other similar relevant information for our customers, or perform data queries directly via our already extensive product database. All this offers the best prerequisites for providing our machine designers and developers with the solid data they need for the targeted, rapid and successful design of a machine or for improving existing ones.
Our customers usually have certain ideas about the type of dosing system they want their product to be processed or filled with. With the help of the analytical facilities in our laboratory, we can determine at a very early stage whether these ideas indeed can be implemented or if we need to influence machine development with insights gained from previous research. Due to the regulatory requirements in the pharmaceutical industry, modifications to the machine or the product after approval are very costly and time-consuming. Therefore, certainty about the functionality of the process at an early stage is particularly valuable. As process managers, we work hand in hand with our laboratory team and the design department to meet the customer's specific product requirements. We never cease to welcome these insights as a part of our ongoing internal development. With the help of our new cleanrooms, we have the unique opportunity to recreate the product conditions found on the customer's premises, to better understand potential issues and to find suitable process solutions. By simulating the real conditions, the complex test program for qualification and validation of new machines can be scaled back, or tests for parameter setups or for special solutions can be transferred to HH, for which the customer preferably provides active pharmaceutical ingredients (API) or a placebo. Training and production support at the customer's site can also reduce the costly and time-consuming start-up phase of the machine.



---
---
Harro Höfliger Verpackungsmaschinen GmbH
71573 Allmersbach im Tal
Deutschland

---