---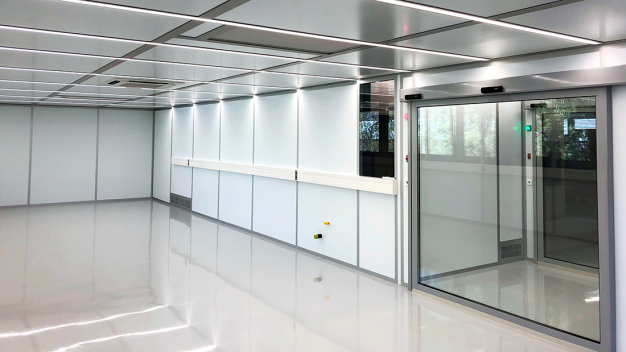 Die kontrollierte, saubere Umgebung wird über zwei U15 Filter und ein effizientes Umluftverfahren erreicht.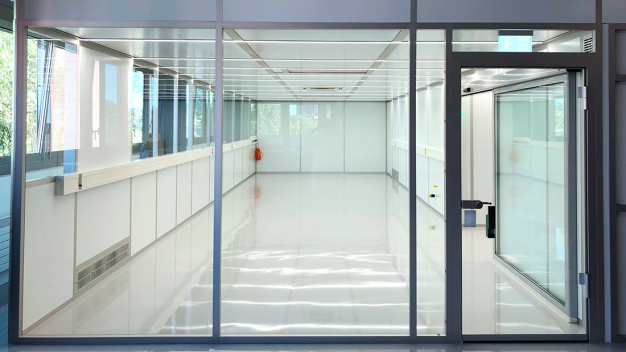 Die vollverglaste Front des ISO 9 Reinraums bietet helle Arbeitsbedingungen.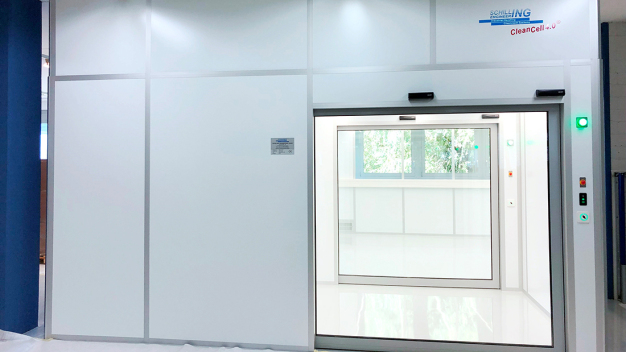 Die Schleuse wird über zwei vollverglaste Schiebetüren betreten.
Die Avintos AG hat einen ISO9 Reinraum von 90 qm in Rheinfelden in der Schweiz in Betrieb genommen. Avintos ist führender Systemlieferant im Bereich von hochwertigen Industriearmaturen und Schlauchleitungen. Für die Konfektionierung von Silikonschläuchen für die Pharmaindustrie benötigt das moderne Unternehmen eine saubere Umgebung.
Das Reinraumsystem CleanCell4.0 von Schilling Engineering wurde genau auf die räumlichen Begebenheiten angepasst und bietet durch die Vollverglasung  der Front und in den Deckenprofilen integrierte LED Streifen einen sehr hellen und offenen Arbeitsbereich. Die Luft wird in einem Umluftverfahren vom Raum direkt zu der Filter-Fan-Unit zurückgeführt, die im Deckenbereich integriert sind. Dies führt dazu, dass die bereits aufgereinigte Luft erneut gefiltert wird. Somit konnte im Reinraum mit nur zwei FFUs eine ISO Klasse 7 und in der Schleuse eine ISO Klasse 8 gemessen werden. Durch dieses Verfahren werden die U15 Filter wenig belastet und die Filterstandzeiten sind sehr hoch.
Zur flexiblen Nutzung der Maschinenanschlüsse wurden Steckdosen, Druckluftanschlüsse, Netzwerkanbindung sowie Frischwasseranschlüsse innerhalb des Reinraums vorbereitet.
Die Steuerung des Systems erfolgt einfach gehalten über ein kleines Glasbedienfeld, über das die FFUs und die Beleuchtung an- und ausgeschaltet werden.
Ein 11 qm großer Schleusenbereich, der über zwei vollverglaste Automatikschiebetüren mit gegenseitiger Verriegelung betreten wird, sorgt für eine saubere Einschleusung von Personal und Material.


Do you have questions, suggestions or an enquiry?
Contact the company directly
Your message
On cleanroom-onle.com I read the article "Helle Produktion in ISO9 " from I have the following request, comments, suggestions:
Wonderful! Your data has been sent. Schilling Engineering GmbH Wonderful! Your data has been sent.
Oh no! Something has gone wrong. Please check your entries. There may also have been an error during dispatch. Just try again in a few minutes.
---

Schilling Engineering GmbH
Industriestraße 26
79793 Wutöschingen
Germany
Phone: +49 7746 9278971
email: i.doerffeldt@schillingengineering.de
Internet: http://www.schillingengineering.de

---