---
The new TIP 2.0
RFID solutions for GEMÜ diaphragms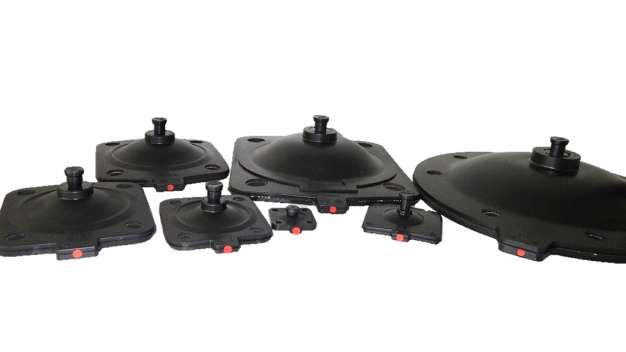 TIP 2.0 in Membranen aller Größen / TIP 2.0 in diaphragms of all sizes
The new TIP 2.0 is an optimized design for enabling communication with diaphragms as part of Industry 4.0 interconnectivity. Using RFID chips in conjunction with CONEXO, diaphragms can be positively identified and relevant data can be read out.
To enable communication with membranes, they are equipped with an RFID chip. Until now, RFID chips have been integrated into diaphragms by adhesive bonding. The integration method for the new TIP 2.0 has been adapted and optimized.
The TIP 2.0 is a substrate with an RFID chip. The substrate made of high-quality plastic protects the chip from external influences and is firmly anchored in the diaphragm during the manufacturing process. The TIP 2.0 is colour-coded red so that it can be quickly and positively identified and its data can be read out using a CONEXO pen.
For customers, the primary advantages of the TIP 2.0 are that the RFID chip can be identified immediately, that it is highly resistant to external influences and that it exhibits high joint strength. The advantage for GEMÜ is that it is a standardized product that is easy to integrate into diaphragms with great precision. The technology that this system uses helps to significantly reduce risks such as data mix-ups, and due to the optimal availability of structures, the system is not only highly efficient but also provides comprehensive documentation. The concept and design of the TIP 2.0 make it suitable for a wide range of applications beyond its use in diaphragms.
From now on GEMÜ will start equipping diaphragms that come under GEMÜ code 17, code 19, code 54 and code 5M with the TIP 2.0.


---
GEMÜ Gebr. Müller Apparatebau GmbH & Co. KG
74653 Ingelfingen
Germany

---