Lifting- and Handlingtechnology
---
Ensure safety for all parties
All round after-sales service for industrial crane systems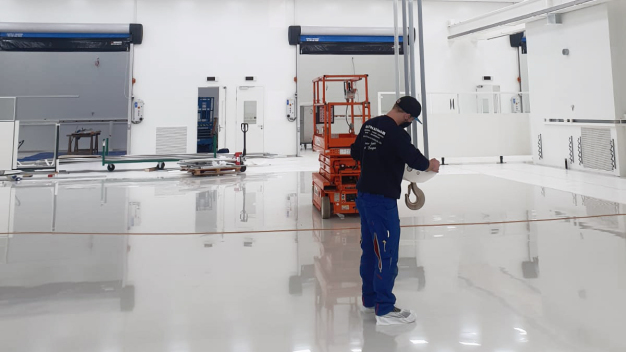 Wartung (Photo: Altmann GmbH) / Maintenance (Photo: Altmann GmbH)
After the purchase and installation of complex technical systems for the cleanroom, quite a few customers, who become system operators with the purchase, feel overwhelmed with their new tasks. Altmann GmbH therefore offers a 360-degree service which also includes the various operator's obligations on the customer side, if desired.
A company that buys a cleanroom and additionally needs a crane system to transport heavy components, must cover countless areas of learning and manage a lot of challenges. According to users, the limits of capacity become apparent both in terms of time and personnel. But once the facility is set up and the supplier has removed the last tools, the brand-new system operator is faced with new unknown issues. What are the duties now, what about maintenance, occupational safety, deadlines? These and other (basically non-technical) questions can make the proud system owner sweat.
As a specialist for highly complex and individually designed crane systems, Altmann GmbH does not allow such a situation to arise with its customers. The company offers what is known as a 360-degree service which, after delivery of the system, includes technical expert approvals in accordance with DGUV(1), on-site staff training, regular maintenance and repairs, partly even by remote maintenance. If required, a later conversion or modernization of the crane can also be included.
Above all however, Altmann actively supports its customers in fulfilling their obligations as an operator. As conveyor systems, cranes and hoists are systems that require monitoring, and the operator is responsible for their safety. These legal operator obligations are stipulated in several regulations, which may cause considerable uncertainty. For Altmann customers, it is reassuring to know that the supplier can also carry out the so-called UVV(2) inspections if required.
This includes
– the test prior to initial operation according to BetrSichV(3),
– the annual inspection according to BetrSichV,
– electrical measurements of any kind,
– maintenance checks including the necessary adjustment work,
– determining the remaining service life for hoist gears and
– the documentation of the test certificates and test reports
During the thorough and regular inspection of the crane systems, the trained Altmann technicians examine the condition of the crane systems down to the finest detail. They record defects, security violations and possible failures. However, they also assess possible risks, identify opportunities for improvement and make appropriate recommendations. This increases the reliability and overall service life of the crane systems. And it applies to all products, not just to the cranes supplied by Altmann.
The advantage for the system operator who is held liable is obvious: the entire burden is taken off his or her shoulders and placed in the hands of experienced specialists. In addition, a detailed digital test report with exact naming of all inspected components ensures transparency.
In order to really give the service 360 degrees, Altmann even offers a spare parts service for all common crane manufacturers, the reproduction of spare parts as well as customized parts and solutions. All round service and safety.
(1) German Social Accident Insurance
(2) Accident Prevention Regulations
(3) Operational Safety Ordinance


Do you have questions, suggestions or an enquiry?
Contact the company directly
Your message
On cleanroom-onle.com I read the article "Ensure safety for all parties – All round after-sales service for industrial crane systems" from I have the following request, comments, suggestions:
Wonderful! Your data has been sent. ALTMANN GmbH Wonderful! Your data has been sent.
Oh no! Something has gone wrong. Please check your entries. There may also have been an error during dispatch. Just try again in a few minutes.
---
---


ALTMANN GmbH
Oberdieberg 23-25
83544 Albaching
Germany
Phone: 08076 /8879-0
Fax: 08076 / 8879-20
email: kontakt@altmann-foerdertechnik.de
Internet: http://www.altmann-foerdertechnik.de

---