Standard-, operating-parts, valves, connectors, ...
---
New flanged, pneumatically operated needle valve unit H107940/…
HASCO hot runner's proven range of needle valves has been supplemented by a new pneumatically driven, enclosed needle valve unit.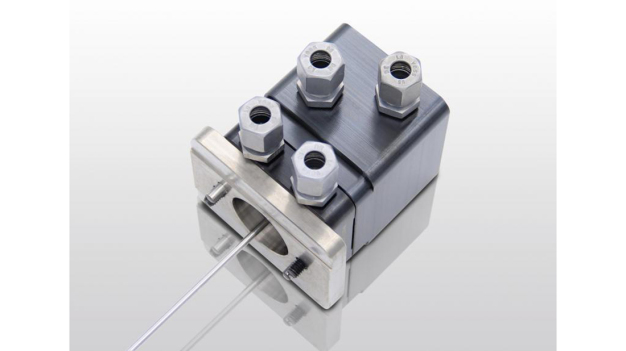 (Bild: Hasco) / (Photo: Hasco)
Modular unit
Based on the existing hydraulic version, this new modular unit is an enclosed system in which the operating piston and the connections are built into a compact housing. The module can be mounted directly on the hot runner via a flange construction and is used primarily for fully wired and piped systems.
The new drive unit H107940/… combines the best of two worlds: the simple installation of an enclosed drive unit and the clean operation of a pneumatic system in cases where a hydraulic system cannot be used.
The housing offers the customer a variety of advantages. It dispenses with the machining times for the clamping plate, which must now only include freely dimensioned recesses for the valve units. Apart from that, there is no need for the supply drill-holes, which means firstly that no dirt can get into the pneumatic system through the machining and secondly that the O rings cannot become damaged through improper handling of the running surfaces.
Simple mounting
The drive unit is thermally decoupled from the hot runner via a cooled, high-quality titanium sheet. As with the other needle valves, the needle in the H107940/… can be adjusted absolutely accurately and permanently from the rear with the proven mechanism by twisting the valve pin holder, without previous dismantling.
The needle valve units are pre-assembled and thus delivered in a very user-friendly way. This pneumatic version is also especially suitable for clean-room applications.
---
HASCO Hasenclever GmbH + Co KG
58513 Lüdenscheid
Germany

---