---
Take it easy - Mehr Sicherheit mit Cloudcomputing
Steuerungssoftware S!MPATI online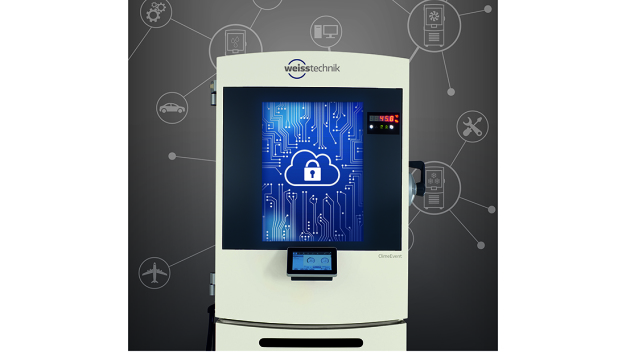 Entspannend und einfach: Mehr Sicherheit für die Daten der Prüfanlagen von Weiss Technik mit S!MPATI online. (Bild: Weiss Technik GmbH, own image)
Weiss Technik erhöht mit der Steuerungssoftware S!MPATI onli-ne die Datensicherheit. Alle Prüfanlagendaten werden automa-tisch in die Cloud übertragen. Weiterer Vorteil: Der User hat standortunabhängigen Zugriff. So sind zum Beispiel automati-sierte Prüfberichte oder laufzeitunabhängige Auswertungen schnell und einfach von überall erstellt.
S!MPATI online ist eine Software für das Management von Prüfanla-gen. Sie ermöglicht die Organisation von Prüfungen und Anfertigung von Prüfberichten über das Internet. Einer der wichtigsten Vorteile ist jedoch die redundante Speicherung der Daten. Das heißt: Sämtliche Messergebnisse, Geräteinformationen und Prüfberichte werden zu-sätzlich zur lokalen Sicherung in der Cloud gespeichert. Damit sind die Daten geschützt – auch wenn Feuer, Wasser, Sturm oder Viren die Informationen an einem Standort vernichten. Das entspricht auch der Regel Nr. 1 aus der Backup-Studie 2020 von Dell Technologies "Mindestens eine Kopie außer Haus lagern".
Die Sicherheit von S!MPATI online beginnt schon vor der Speicherung in der Cloud. Die Übertragung der Daten übernimmt ein von Weiss Technik selbst entwickeltes Gateway. Dieses stellt die Verbindung zwischen dem lokalen S!MPATI und der Cloud her. Zudem kann der User nur lesend auf Clouddaten zugreifen. Eine Gefährdung durch Schadsoftware aus der Cloud ist damit ausgeschlossen.
Die Cloudversion ist bis S!MPATI 2016 abwärtskompatibel und geht bei den Funktionen sogar teilweise über S!MPATI hinaus. Mit der On-line-Version lassen sich Anlagen und Prüfungen standortübergreifend verwalten. So ist ein weltweiter, einfacher Zugriff jederzeit möglich. Zudem sind Funktionen für die teilautomatisierte Berichterstellung enthalten. Prüfberichte sind nun auf Knopfdruck mit allen relevanten Daten erstellbar. 
Die wichtigsten Vorteile auf einen Blick:
– Redundante Datensicherung
– Standortunabhängiger Zugriff
– Prüfberichtsverwaltung
– Automatisierte Erstellung von Prüfberichten
– Laufzeitunabhängige Auswertungen
– Anlagenreports (auch Fehlerprotokolle)
– Grafische Auswertung der Meßdaten


Do you have questions, suggestions or an enquiry?
Contact the company directly
Your message
On cleanroom-onle.com I read the article "Take it easy - Mehr Sicherheit mit Cloudcomputing – Steuerungssoftware S!MPATI online" from I have the following request, comments, suggestions:
Wonderful! Your data has been sent. Weiss Klimatechnik GmbH Wonderful! Your data has been sent.
Oh no! Something has gone wrong. Please check your entries. There may also have been an error during dispatch. Just try again in a few minutes.
---
---

Weiss Klimatechnik GmbH
Geräte- und Anlagenbau
Greizer Str. 41-49
35447 Reiskirchen
Germany
Phone: +49 6408 84 6539
Fax: +49 6408 84 8722
Mobile radio: +49 172 6868 367
email: info@weiss-technik.com
Internet: http://www.weiss-technik.com

---