---
Clean room hoist in under flange execution moves 10 t of load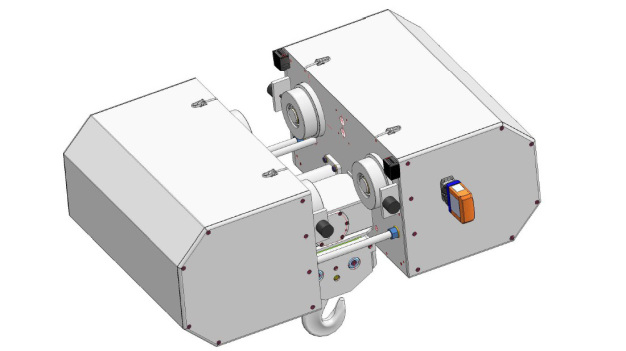 Durch das niedrige C-Maß und die Untergurtausführung ergibt sich ein zusätzliches Anfahrmaß in alle Kranfahrrichtungen. / Due to the low C dimension and the under flange execution, an additional approach dimension is achieved in all crane travel directions.
With a lifting capacity of 10 tons, the latest innovation from ALTMANN is a real novelty for the use in single girder clean room cranes. No other construction in under flange execution has reached this capacity class so far. ALTMANN sets a new standard with this clean room hoist and further strengthens its leadership through innovation.
The extremely favourable construction height makes the clean room hoist perfectly suited for use in clean rooms with low ceiling height. Small clean rooms also profit from the combination of low C dimension and under flange execution: Due to the additionally achieved approach dimension in all long and cross travel directions, the available space can be optimally used. As the hoist is designed for the use in clean rooms of clean room classes ISO 5 / ISO 6, it is possible to lift loads of more than 10 m, with hoist speeds between 0.05 and 8 m/min. Furthermore, the clean room hoist is prepared as standard for automatic positioning, synchronisation for tandem operation with several hoists and/or cranes as well as for pendulum damping.
Like the electric belt hoist ase of stainless steel introduced last year, the new clean room hoist also complies with the ALTMANN clean room standard. This means that instead of ropes or chains maintenance- and lubricant-free load belts are used which do not cause any contaminations due to wear. The standard features of ALTMANN clean room cranes are smooth surfaces that are optimized for cleaning, low-wear material combinations on friction surfaces and an execution in completely sealed assemblies. The unobtrusive drive technology specifically developed for clean rooms has also contributed to ALTMANN's leadership achieved through innovation: low-wear material combinations in the deflection and guide pulleys, integration of belt hoist and drive in enclosed housings as well as decentralized control distinguish the ALTMANN products from other clean room hoists available on the market, not only from a visual point of view. On the one hand, the lack of visible cables increases safety and on the other hand, the cleaning effort is reduced to a such a level that the clean room hoists can be used in 3-shift operation without any problems.
The new clean room hoist with 10 t lifting capacity has proven successful for a well-known customer: 24 hoists of this type were commissioned with two tandem pairs each, the allowable deviation lying below 1 mm across all axes.
Do you have questions, suggestions or an enquiry?
Contact the company directly
Your message
On cleanroom-onle.com I read the article "Clean room hoist in under flange execution moves 10 t of load " from I have the following request, comments, suggestions:
Wonderful! Your data has been sent. ALTMANN GmbH Wonderful! Your data has been sent.
Oh no! Something has gone wrong. Please check your entries. There may also have been an error during dispatch. Just try again in a few minutes.
---


ALTMANN GmbH
Oberdieberg 23-25
83544 Albaching
Germany
Phone: +49 8076 88790
email: kontakt@altmann-foerdertechnik.de
Internet: http://www.altmann-foerdertechnik.de

---