---
Die Reinraum-Sprechstunde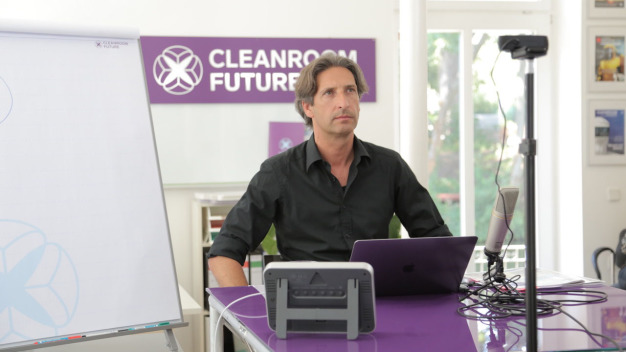 Branchenexperte Frank Duvernell während der Reinraum-Sprechstunde
Getrieben durch die Coronakrise beschreitet Cleanroom Future neue Wege und entwickelt ein neues Videokonferenz-Format: Die Reinraum-Sprechstunde. Die Idee entstand durch die zahlreichen Diskussionen um Webinare und eLearning-Module, den Erfahrungen aus der Cleanroom Future Plattform und den (all)täglichen Erlebnissen und Fragen von Seiten der Anwender. Inspiriert von Teilnehmern aus dem Lehrgang zum Reinraumverantwortlichen, den der Cleanroom Future Campus seit letztem Jahr anbietet, wir das Ziel verfolgt, eine nachhaltige Beziehung nach dem 4-Tageskurs aufzubauen.
"Die vielen Fragen, die tagtäglich auftauchen, sollten ein Ventil finden, wo Reinraumverantwortliche sich in einem Kreis von Gleichgesinnten und Experten besprechen können und schnelle Hilfe auf einfache und komplexe Fragen finden", beschreibt Geschäftsführer und Branchenexperte Frank Duvernell, der seit über 35 Jahren als Moderator in der Reinraumtechnologie tätig ist. Geplant ist ab dem kommenden Jahr das bestehende Format Cleanroom Talk als englischsprachige Version der Reinraum-Sprechstunde zu etablieren.
Nächster Termin: Mittwoch, 2. September von 15:oo Uhr bis 16:15 Uhr
Do you have questions, suggestions or an enquiry?
Contact the company directly
Your message
On cleanroom-onle.com I read the article "Die Reinraum-Sprechstunde " from I have the following request, comments, suggestions:
Wonderful! Your data has been sent. Cleanroom Future GmbH Wonderful! Your data has been sent.
Oh no! Something has gone wrong. Please check your entries. There may also have been an error during dispatch. Just try again in a few minutes.
---
---


Cleanroom Future GmbH
Hanauer Landstraße 291A
60314 Frankfurt
Germany
Phone: +49 69 150466500
email: info@cleanroomfuture.com
Internet: http://www.cleanroomfuture.com

---